Podcast: Play in new window | Download
S02 Ep15 (Part 2 of 3) - Holding on the bass for dear life with Ernie Isley
Interview Date: August 13, 2012 @10 am EDT
Special Guest: Ernie Isley (of the Isley Brothers) -  is a key member in one of the most famous soul/funk/R&R bands of all time. Ernie Isley was a crucial component in the band at a historic and transitional time in music; they changed the sound of the band's early music with songs like "This Old Heart of Mine" and "Shout" and advanced into their later funk driven sound with songs like "Fight the Power Pts. 1 & 2," "Harvest for the World," "Voyage to Atlantis," and "That Lady." Ernie Isley helped make the Isley brothers one of the few groups that have charted in five consecutive decades. In this podcast we talk about why Jimi Hendrix had difficulty catching in America, the first time Ernie was in the studio to record "It's your thing," the 3 + 3 recording sessions, and the Beatles inspiration and introduction in America.
Attention Everyone: This is a Snobbery!
In these days of music snobs and jokes like "I'm into bands that haven't even formed yet." As great as some artists are lauded now and pasted on the front cover of magazines and whose image sell millions of t-shirts, some never got the popularity nor the due respect simply because they were too advanced for the population or market to accept. All this despite skill, mettle, integrity, or whatever you wish to say that separates a band from the crowd but also separates them so far for them to fail to realize success. Ironically, while recognition is the measure and aim (often) of budding artists pushing their craft to new levels hoping to make it big, the market and larger population tends to be pretty conservative.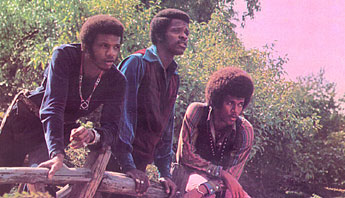 But this is the market. And there's more than one side. The Delfonics probably wouldn't have such a cult following if it weren't so cool to be into the band before they broke, or never broke but should have. If every band that finally made it had a nickel from everyone who said they were into them before they got popular, well, let's just say that there would be a lot more money to go around to feed the starving artists, perhaps to the ends of time.
This is the priceless and intangible commodity; the je nes sais quoi of music appreciation. Lest not we forget Hammond's Folley: Bob Dylan. Hammond's Folley was the moniker given to Dylan because Columbia Records' A&R man John Hammond signed Dylan, and produced his album which sold poorly at first and Hammond's bosses found such disfavour with Dylan they dubbed him "Hammond's Folley." In fact, the Columbia Record execs didn't authorize his signing. It was Hammond's persistence and rebellious nature to go ahead and sign him despite his superiors objections. Obviously, he had an ear more advanced than the execs; Dylan's success and Hammond's reputation more than show for it.
There are scores of bands that influenced others and helped launch them into stardom but never got to reap the same degree of success. Jimi Hendrix credited the Isley Brothers because reporters fascinated by his sound wanted to know how he developed and would ask him directly what bands he was into and influenced by. Often, Hendrix would only mention the Isley Brothers.
Also, unfortunately, as time wears on influences get forgotten and stories get simplified. As Ernie Isley describes in the interview, finding McCartney in his audience, they happened to have a great meeting, and the two gushed on each other great respect. And while the same three names of Elvis, Carl Perkins, and Chuck Berry get mentioned as the influences of the Beatles, McCartney told Isley that the Beatles would never have gotten out of Liverpool had it not been for the Isley Brothers, and he got up on stage and said so to give them homage.
It's a mercurial nature of where a sound takes hold. Place and time are never consistent. Hendrix said that he really learned to play while he was in Memphis because the audiences were so hard and everybody there played guitar, but Memphis got to be limiting pretty quickly in terms of sound; that plus the race issue made it difficult to gain success there. In the U.S. in '63 only the major metropolitan areas were where mixed race bands were accepted; elsewhere, they were often shut down or forced out. Countless stories could be told. During this time, and the influx of the British Invasion, Hendrix was told that he just wouldn't sell in America. This is how Jimi was spirited away to the U.K.
But I'm not talking about the race issue here, it's the general acceptance issue-if their music was appreciated. The same goes for fine art and literature. Artists sometimes never get the recognition they deserve until they're dead.
And still, musicians get passed over because they were too advanced. All this considering the valuable commodity and bragging rights of being into the band that hasn't broke yet, but on the verge. Unfortunately, some remain on the verge and only make it to a revered cult following; such has been said of Sun Ra and Frank Zappa.
But what makes the long hours of research so rewarding is honing that appreciation to be able to flesh out the bands that had that sound, or skill, or philosophy, or audacity to push music in another direction but just weren't pushed, promoted, discovered, or simply just weren't accepted in their time and passed over. It's not just collecting, it's honing an appreciation and relishing the reward. It brings a higher level of integrity to music snob.
Fin.
Parting Thoughts:
We thought we'd pay a little respect to some of the artists who didn't get their due in their day.
Little Jimmy Scott. He's a complex case, even his resurgence was diminished by interfering influence despite highest praise from respected professionals.
See.
Sun Ra
Eddie Cochran
Fishbone
My Bloody Valentine
Pixies
Gene Vincent
The Ramones
Considered by most as only a joke at first. I bet you own a t-shirt with their name on it.
Source:
http://vermontreview.tripod.com/essays/razappa.htm
P.S. Dylan releases his new album, "Tempest" around the second week of September
http://www.guardian.co.uk/music/musicblog/2012/aug/06/bob-dylan-tempest-first-listen
Podcast: Play in new window | Download
S02 Ep15 (Part 1 of 3) - Buying a white Strat with Ernie Isley
Interview Date: August 13, 2012 @10 am EDT
Special Guest: Ernie Isley (of the Isley Brothers) -  is a key member in one of the most famous soul/funk/R&R bands of all time. Ernie Isley was a crucial component in the band at a historic and transitional time in music; they changed the sound of the band's early music with songs like "This Old Heart of Mine" and "Shout" and advanced into their later funk driven sound with songs like "Fight the Power Pts. 1 & 2", "Harvest for the World", "Voyage to Atlantis" and "That Lady." Ernie Isley helped make the Isley brothers one of the few groups that have charted in five consecutive decades. In this podcast we talk about the history of the Isley Family and the day Jimi Hendrix moved into the Isley house when Ernie was 11.
Voodoo Child (Slight Return)
Most know him by his outrageous stage presence and antics, most notably, from Monterrey, or Woodstock, but Jimi Hendrix was truly an artist, and had a gentle and introspective nature. It's this nature of his that drew attention to him when he may have preferred simply to melt into the crowd. He earned more than a few nicknames because of this. Ironically, he started out with "Buster"
Jimi's first legal name was Johnny Allan Hendrix. His father, Al,returning from the service and meeting him for the first time, had it legally changed to James Marshall Hendrix.
Apparently, because of his quiet demeanour and innocent face, the band members of The Rocking Kings would call him "Cupcake."
After his time in the Army and befriending Billy Cox, Jimi was in a band called the King Kasuals, who referred to him as "Marbles" as in he's lost his for doing things like sleeping with his guitar.
For what exact reason is not explained, perhaps for obscurity or just his sense of humour, but Jimi told his idol, Little Richard, that his name was Maurice James.
A friend of his in Harlem, Dean Courtney, called him "Snagglepuss." So far, it can only be proven by it's absence, but no bad men have ever been known to be called Snagglepuss.
It's said that Etta James called Jimi "Egg Foo Yung" because that was all that he'd eat for dinner every night in Harlem.
Beautiful, just beautiful.
Parting Thoughts:
For those of you who are interested in the instruments, Ernie has some custom Stratocasters built for him. Here's a link which shows one of them. http://www.fender.com/blog/watch-joss-stone-ernie-isley-on-leno/
Historical research gained from: Becoming Jimi Hendrix: From Southern Crossroads to Psychedelic London, the Untold Story of a Musical Genius by Steven Roby and Brad Schreiber, Da Capo Press 2010
Podcast: Play in new window | Download
S02 Ep14 (Part 2 of 2) - Getting Biographical with Mary Wilson
Interview Date: August 6, 2012 @ 1pm
Special Guest: Mary Wilson - One of the founding members and the only consistent artist of The Supremes. The Supremes were Motown's biggest stars, scoring 12 number one hits in five years. In this half of the interview, Wilson covers The Supremes first hit "Where Did Our Love Go,  The Supremes in the face of the civil rights movement, and touches on some of the stars that graced the halls of Motown.
The Rocky Road to becoming The Supremes
The Supremes seemed to be Hitsville's wellspring, but getting there wasn't as easy as snapping your fingers to one of their songs; The Supremes went through line-up changes and some bitter strife just like any band. It didn't necessarily help that Smokey Robinson stole the girls' guitar
player, Marv Tarplin, after they went to Berry Gordy's studio for their audition at Motown. Smokey had a good eye for talent, obviously, because Tarplin went on to help write some of Smokey Robinson and The Miracles' biggest his, including "The Tracks of My Tears." Tarplin came to be known as "The Miracles' Secret Wheapon." Fortunately, Gordy could back up The Supremes and anyone else he wanted to support with one of the best backing bands from any time period - The Funk Brothers.
The Supremes, known as the Primettes  before they were signed to Motown (named as the female counterpart to The Primes, who later became The Temptations) were actually formed by Florence Ballard and Mary Wilson. Diane Ross (she was known as Diana later) was brought in by Wilson shortly thereafter, and Betty McGlown came in to make the original foursome. They were initially turned away by Gordy because of being so young, and were told to come back after they graduated High-School. Through their persistence and dedication, they captured Gordy's attention and were allowed to contribute on studio recordings.
Early on, and before their identity as a pop group had taken firm hold, the girls in the group actually shared singing lead, with the girls singing in the style that they generally preferred. This, you can imagine, led to competition. Tempers tended to run high even before the weight of stardom. It was Gordy's decision, of course, to place Ross as the lead and to steer the sound towards pop and away from soul. As Mary Wallace explains in the interview, she learned that Gordy shied away from using "every element" of the gospel sound.
What seems so completely baffling about the history of The Supremes is their absolute dismal start. Nothing they produced charted, even despite Gordy's invested efforts to push and promote the band. Rumour has it that they were dubbed the No-Hit Supremes for about three years due to their poor start.  But by 1964, they had a #1 hit with "Where Did Our Love Go" and were quickly on their way to becoming the most successful chart topping pop group in America. "With the release of this album, The Supremes became the first act in Billboard magazine history to have three number-one hits from the same album. It was the album that introduced "The Motown Sound" to the masses. It was also, at the time, the highest ranking album by an all female group. It remained in the #2 position for 4 weeks, in January 1965, remaining on the Billboard charts for an unprecedented 89 weeks."1
But success was no solution to ease the troubles that already present, plus the added stress and heavy touring took it's toll. Florence  was unable to perform some shows leaving Diana and Mary to perform as a duo. Different stories go around, but it wasn't long before Flo was out of the group she built with Mary.
Troubles continued after the formative years, but they were able to roll out a steady stream of hits, and despite the inner strife and bitterness, it's really about the music. If one pays attention to that, you can recognise the positive impact The Supremes had on music and in the role of race relations in America during turbulent times.
Parting Thoughts:
Although we wholly support the independent record store, Mary Wilson's new single from her upcoming album can be found at Amazon or iTunes
1. Wikipedia, https://en.wikipedia.org/wiki/Where_Did_Our_Love_Go_(album) Aug 16, 2012
Podcast: Play in new window | Download
S02 Ep14 (Part 1 of 2) - Touching on some double meanings with Mary Wilson
Interview Date: August 6, 2012 @ 1pm
Special Guest: Mary Wilson - One of the founding members and the only consistent artist of The Supremes. The Supremes were Motown's biggest stars,  having 12 number one hits in five years. In this interview we talk about what it was like growing up in Detroit in the 1950's, the early years as the Primette's, the songs "Paper Baby", "Butter Popcorn", and how the girls decided on the name "The Supremes."
The perfect storm of Motown
Berry Gordy Jr. and Motown. It's a remarkable story, and one with a great deal of controversy, but if that aspect of the story can be put aside, it can seen much more clearly what a great positive aspect that Motown had on the history of America and of music in general. Ironically, it was the unequal distribution of funds inherent in the music industry that contributed largely to the birth of Motown. Starting out by writing songs, and having "Lonely Teardrops" become a commercial success for Jackie Wilson, but Gordy himself not receiving much funds or credit, he decided to put his attention towards producing. Had he been sufficiently rewarded for his songwriting, he may have continued to keep his efforts only to that and Motown might have never been.
Spurred to build his company, Berry Gordy Jr. looked to find what he had around him. He had to have known his town and a good ear for music. Motown owes a great deal to the excellent music program in Detroit's schools. Gordy's openness to sign new, untested performers led to initial success. Apparently, he learned from the automotive production line he where he worked for a time; taking a base and adding to it to produce a polished product at the end of the line. He is part of the American spirit that gathers the unrefined resources at hand and fashions them into a new construct, one that serves the people and fuels the appetite for more.
Berry Gordy developed the Motown sound. It sold and grew into an empire.
Motown was the second record label Gordy started. With his first label, Tamla, he had signed The Miracles (which included Smokey Robinson) which carried over to Motown, and they had quick success and became one of Motown's first and
most successful acts. But Gordy was open to signing female artists as well including Mary Wells, who approached him initially with a song she had written intending to have Jackie Wilson record. Gordy, recognizing her talent signed Wells as a singer. She became so successful and helped build Motown, she earned the title of "The Queen of Motown." And with signing The Supremes, Gordy had a band that would equal the Beatles in terms of worldwide recognition. Although at the first encounter, Gordy turned them away thinking that they should finish high-school first before seeking success as recording artists. The Supremes disregarded his advice and released a record under their initial band name, The Primettes, with the Lu Pine label. This record, plus their continued presence at his studio, Gordy agreed to sign the band under the name The Supremes.
With Mary Wells, The Temptations, and the Supremes and through his efforts, Gordy signed acts that landed Motown its first hits such as The Contours, Martha and the Vandellas, The Temptations, and The Four Tops. All of whom helped define the Motown sound.
There aren't many places and times where such a company and acts would have been able to succeed to such a degree. Detroit itself had a significant advantage with the productive auto industry fuelling the city, and there was more tolerance in the north than in other parts of the states. The timing was right as well. Ten years earlier, its very doubtful enough people would have been so accepting to allow it to be profitable, at least not to degree of success that Motown came to enjoy.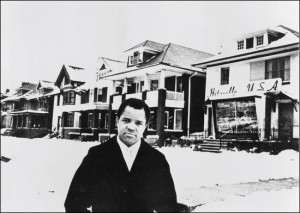 But Gordy had an ear for talent, and developed his marketing and production skills. It might have only been the industrial northern United States that would have allowed music to break the colour barrier, but once it gained a foothold, it quickly spread to the other corners of the states and onwards to the modern music markets around the world spreading their success and joy of music and forever changing the face of music the world over.
Podcast: Play in new window | Download
S02 Ep13 (Part 2 of 2) - Nearly giving in to John McNally
Interview Date: July 20, 2012 @ 2 pm
Special Guest: John McNally of the Searchers - Known for hits like "Sweets for my Sweet," "Needles and Pins," and "Love Potion Number 9," the Searchers were one of the leading bands to come out of the Merseybeat scene out of Liverpool in the early 60's. Known for playing at the Star Club in Hamburg, the Cavern, and the Iron Door in Liverpool, the Searchers went on to become part of the first wave of the "British Invasion" with a TV appearance on the Ed Sullivan Show and a major US tour. The Searchers have continued to entertain and tour 50 years on. In this podcast we talk about some of their hit songs, John Lennon and Brian Epstein, going on tour with the Rolling Stones and much more.
The Truncated History of the Birth of the Loud Guitar
A little research into the background of the electric guitar reveals some fascinating history. Similar to the birth of Radio, (on which Ken Burns
has a great documentary "Empire of the Air"), the players and path of making the guitar louder has some fascinating and colourful characters. All of which, had they not been present, would have shaped the progression of the guitar very differently. Perhaps, most profoundly for the Rickenbacker electric guitar.
We'll start the story at where the desire to make the guitar louder launched the impetus to create in George Beauchamp, (pronounced Beechum) a vaudeville violinist and steel guitar player who wanted to be heard more clearly above the band. He sought John Dopyera to create a prototype of his design using a phonograph horn similar to what was used on phonographs of the time. Other inventors were trying to produce an amplified guitar using similar methods at the time. Apparently, this first attempt was nothing but a failure, but their next design involved using three aluminum resonators proved to fulfil everything that Beauchamp had hoped. It proved to impress him so much that he proposed that Dopyera go into business with him to market them. They founded the National String Instrument Corporation and thus the first National resonator guitar was born - the tricone.
Searching for investors, Beauchamp took the tricone prototype to a party his 20's millionaire playboy, cousin-
in-law, Ted Kleinmeyer, was hosting, and where hawaiian guitar virtuoso Sol Ho'opi'i and his trio were playing for Ho'opi'i to play. Apparently, having heard Ho'opi'i playing the new guitar, Kleinmeyer gave Beauchamp a $12,000 cheque that same night. Kleinmeyer's investment was great fortune for the company, but perhaps not so difficult to come by as one would think, as Kleinmeyer was trying to burn through his inheritance before he would get his next million dollars of inheritance at 30. However, the events that evening were the pivotal point which changed the lives and careers of countless people, and it's effects are still resounding. For the initial players, Sol Ho'opi'i continued to play the tricone and helped to make the guitar quite popular. It's general popularity lasted until the electric guitar came into use, but steel instruments still are mainstays in Hawaiian music, and familiar in blues, western swing, bluegrass, and country.
From their nascent factory, Beauchamp and Dopyera went to a nearby metal stamping plant owned by a Swiss born man by the name of Adolph Rickenbacher (who anglicized his name to Rickenbacker, partly because of famous relative and top WWI ace, race car driver, and automobile manufacturer, Eddie Rickenbacker) to make the metal bodies of the instruments they were making. Successful production began almost overnight.
Unfortunately, the partnership would not last, internal struggles, hardship, and disagreements with the direction of the company caused the bond of the members to fracture. John Dopyera quit to form the his own company - the Dobro Corporation. Beauchamp himself was fired. Kleinmeyer, nearly broke by then, sold out his shares to Louis Dopyera, one of the Dopyera brothers who remained involved in National. Rickenbacker himself seemed to be the only level headed one, and continued to do business with the splinter groups.
John Dopyera, sought to make a resonator that would be less costly to produce and therefore priced more appropriately for a larger scope of
players, one that implemented a single cone instead of three. Something he tried to produce at National, but wasn't able, contributing to his frustration with the company. With his new company, he set to building his plan, but despite being one of the creators of the resonator, National owned the patent for the single cone and he had to come up with another design to work around the patent. This brought him to found the Dobro company with four of his brothers. He designed plans to invert the aluminum cone and have the strings transmit their sound through an eight-way branching cast aluminum frame called a spider. While the name Dobro is used to refer to many resonators, the inverted cone spider type is the true dobro. Gibson guitars purchased the rights to the Dobro name now.
The single cone resonator proving, as Dopyera figured, to be cheaper, and producing more volume, became popular and took sales. National didn't want to be left behind and had to come out with their own single cone using what they call a biscuit to transmit the sound to the cone -known as the National biscuit, or simply the National.
Beauchamp, still investing his time in experimentation, decided to pursue the concept of amplifying the guitar by use of electronics, and educated himself by enrolling in night school. After night school and through several months of experimentation, finally he had developed a way of concentrating the magnetic field under each string. Beauchamp went back to Rickenbacker to found a new company to produce the instrument. They began making the electric guitar, "the Rickenbacker" a.k.a. "the frying pan."
To show what great products blossomed out of that seminal moment when Beauchamp had Ho'opi'i play his prototype that night, one need only
pick a few more examples; the effects really seem to be endless the more one looks into it. All events concerning electric guitars can trace their way back to that night. Rickenbacker, producing amplifiers for their guitars had many of them making their way into Leo Fender's radio repair shop sparking his interest in electric instruments (who later formed Fender with Clayton Orr "Doc" Kauffman, another former worker for Rickenbacker). And further events brought the National String Instrument Company, and Dobro to merge for a time, forming the National Dobro Company which, in turn led three former owners of that company to spin-off and form another company,Valco. Victor Smith, Al Frost, and Louis Dopyera, founded the short lived company, but produced a highly sought after guitar. Simply, the history of the electric guitar goes back to that evening at Kleinmeyer's party.
Rickenbacker continues to develop guitars, and the basis of their electromagnetic pickups are still the standard for amplifying the sound from the strings. Rickenbackers, although a different company than from the formative years, still are known by their distinct, clear sound and original style. Paul McCartney and George Harrison were known to use them, plus Tom Petty and many more, but to list them would only serve an example of leaving notable names out, plus make this a much longer article, and that's not the point. What was meant to show and that the history of the loud guitar isn't so hard to trace back to that one evening, and to Beauchamp, who had a little ingenuity, and the wish to play loud, so to end this history here with a quote from Bob Dylan; "Play fucking loud!"

Parting Thoughts:
A Message from Leafcutter John
I'd like you to help me make a massive morse code chorus.
I'm  making a piece of music for BBC radio 3′s the Verb show and I'd like to assemble a large chorus of people speaking in morse code. I need your help – All you have to do is record yourself speaking the letter 'Q' followed by the words:
Dot.
Dash.
Dit.
Dah.
if you like you can then follow that with your favourite word beginning with the letter Q.
Or you can email me the recording & tell me how you'd like to be credited.
morsecodechorus@gmail.com
Or record it via your mobile phone or computer directly to soundcloud and share it withleafcutterjohn. Cleck HERE to do it. And please remember to make it DOWNLOADABLE!
I think the show goes out on 24th October.
Many thanks!
J x.
The Kinks  -
Have a cool contest for people wanting to re-interpret one of their songs. You can find out more here:
http://www.talenthouse.com/collaborate-with-the-kinks
Tom Waits News:
Links:
http://invention.smithsonian.org/centerpieces/electricguitar/invention.htm
http://www.rickenbacker.com/history_early.asp
http://www.kwch.com/kwch-rew-photos-80-years-of-the-electric-guitar-20120712,0,4320825.photogallery