Podcast: Play in new window | Download
S02 Ep15 (Part 2 of 3) - Holding on the bass for dear life with Ernie Isley
Interview Date: August 13, 2012 @10 am EDT
Special Guest: Ernie Isley (of the Isley Brothers) -  is a key member in one of the most famous soul/funk/R&R bands of all time. Ernie Isley was a crucial component in the band at a historic and transitional time in music; they changed the sound of the band's early music with songs like "This Old Heart of Mine" and "Shout" and advanced into their later funk driven sound with songs like "Fight the Power Pts. 1 & 2," "Harvest for the World," "Voyage to Atlantis," and "That Lady." Ernie Isley helped make the Isley brothers one of the few groups that have charted in five consecutive decades. In this podcast we talk about why Jimi Hendrix had difficulty catching in America, the first time Ernie was in the studio to record "It's your thing," the 3 + 3 recording sessions, and the Beatles inspiration and introduction in America.
Attention Everyone: This is a Snobbery!
In these days of music snobs and jokes like "I'm into bands that haven't even formed yet." As great as some artists are lauded now and pasted on the front cover of magazines and whose image sell millions of t-shirts, some never got the popularity nor the due respect simply because they were too advanced for the population or market to accept. All this despite skill, mettle, integrity, or whatever you wish to say that separates a band from the crowd but also separates them so far for them to fail to realize success. Ironically, while recognition is the measure and aim (often) of budding artists pushing their craft to new levels hoping to make it big, the market and larger population tends to be pretty conservative.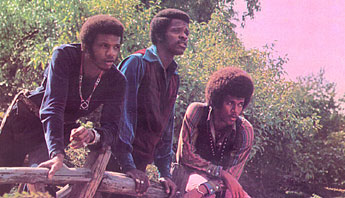 But this is the market. And there's more than one side. The Delfonics probably wouldn't have such a cult following if it weren't so cool to be into the band before they broke, or never broke but should have. If every band that finally made it had a nickel from everyone who said they were into them before they got popular, well, let's just say that there would be a lot more money to go around to feed the starving artists, perhaps to the ends of time.
This is the priceless and intangible commodity; the je nes sais quoi of music appreciation. Lest not we forget Hammond's Folley: Bob Dylan. Hammond's Folley was the moniker given to Dylan because Columbia Records' A&R man John Hammond signed Dylan, and produced his album which sold poorly at first and Hammond's bosses found such disfavour with Dylan they dubbed him "Hammond's Folley." In fact, the Columbia Record execs didn't authorize his signing. It was Hammond's persistence and rebellious nature to go ahead and sign him despite his superiors objections. Obviously, he had an ear more advanced than the execs; Dylan's success and Hammond's reputation more than show for it.
There are scores of bands that influenced others and helped launch them into stardom but never got to reap the same degree of success. Jimi Hendrix credited the Isley Brothers because reporters fascinated by his sound wanted to know how he developed and would ask him directly what bands he was into and influenced by. Often, Hendrix would only mention the Isley Brothers.
Also, unfortunately, as time wears on influences get forgotten and stories get simplified. As Ernie Isley describes in the interview, finding McCartney in his audience, they happened to have a great meeting, and the two gushed on each other great respect. And while the same three names of Elvis, Carl Perkins, and Chuck Berry get mentioned as the influences of the Beatles, McCartney told Isley that the Beatles would never have gotten out of Liverpool had it not been for the Isley Brothers, and he got up on stage and said so to give them homage.
It's a mercurial nature of where a sound takes hold. Place and time are never consistent. Hendrix said that he really learned to play while he was in Memphis because the audiences were so hard and everybody there played guitar, but Memphis got to be limiting pretty quickly in terms of sound; that plus the race issue made it difficult to gain success there. In the U.S. in '63 only the major metropolitan areas were where mixed race bands were accepted; elsewhere, they were often shut down or forced out. Countless stories could be told. During this time, and the influx of the British Invasion, Hendrix was told that he just wouldn't sell in America. This is how Jimi was spirited away to the U.K.
But I'm not talking about the race issue here, it's the general acceptance issue-if their music was appreciated. The same goes for fine art and literature. Artists sometimes never get the recognition they deserve until they're dead.
And still, musicians get passed over because they were too advanced. All this considering the valuable commodity and bragging rights of being into the band that hasn't broke yet, but on the verge. Unfortunately, some remain on the verge and only make it to a revered cult following; such has been said of Sun Ra and Frank Zappa.
But what makes the long hours of research so rewarding is honing that appreciation to be able to flesh out the bands that had that sound, or skill, or philosophy, or audacity to push music in another direction but just weren't pushed, promoted, discovered, or simply just weren't accepted in their time and passed over. It's not just collecting, it's honing an appreciation and relishing the reward. It brings a higher level of integrity to music snob.
Fin.
Parting Thoughts:
We thought we'd pay a little respect to some of the artists who didn't get their due in their day.
Little Jimmy Scott. He's a complex case, even his resurgence was diminished by interfering influence despite highest praise from respected professionals.
See.
Sun Ra
Eddie Cochran
Fishbone
My Bloody Valentine
Pixies
Gene Vincent
The Ramones
Considered by most as only a joke at first. I bet you own a t-shirt with their name on it.
Source:
http://vermontreview.tripod.com/essays/razappa.htm
P.S. Dylan releases his new album, "Tempest" around the second week of September
http://www.guardian.co.uk/music/musicblog/2012/aug/06/bob-dylan-tempest-first-listen