Podcast: Play in new window | Download
S03 Ep02 (Part 2 of 2)- I love to hear Mira Calix speak, yet well I know
Interview Date: September 11, 2012 @2pm EDT
Special Guest: Mira Calix - As far as Electronica artists go, Chantal Passamonte aka Mira Calix is much more organic, not only in the sounds she uses (through collecting field recordings, capturing analogue sounds, and working with chamber instruments and other ensembles), but also with the direction her music has taken, evolving away from a strictly electronic sound to incorporating classical orchestration and working in dance, film, theatre, opera, and within the visual arts. In this podcast we talk about the collaboration with Gavin Bryers on the Shakespeare sonnet "Nothing like the sun" ,  we discuss her work with Mark Clifford of SeeFeel, the  album "Eyes set against the sun",  her famous award winning piece  "My Secret Heart", the recent Alfred Hitchcock soundtrack commission and much much more.. Check out more here: http://www.miracalix.com/
The Connection
Mira Calix (Chantal Passamonte) mentioned the band My Bloody Valentine (MBV) as an influence during her interview, and they're a band worth a description here, although by now, they've gotten enough publicity and time to become more familiar to the world but, in their day in the early '90's, they were one of the best alternative
bands you never heard of. They had a resurgence after they disbanded in the mid 90's and the strength of their sound kept them popping up throughout new music scenes and generations. I can recall reading a review in a university paper only six years ago about the the writer's "new find" they called a goldmine of a discovery, and of which they were extremely proud to find and relishing the music and describing with great amounts of ebullience, "especially when turned up loud." It wasn't the most brilliant writing, or thorough review, but what made it memorable, was that their music was being rediscovered and loved again as new and groundbreaking despite their disappearance from the scene, apart from the few tracks in Sofia Coppola's movie, Lost In Translation, but in the midst of approximately fifteen years passing and through new and contrary popular music scenes, their music still remains to enthrall new listeners.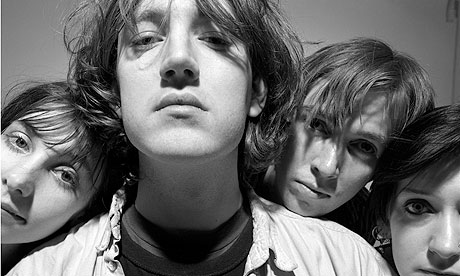 Passamonte seemed a bit taken aback by referring to MBV and their ilk as counter to the mainstream, but this only reveals the difference in the music scene when one crosses the pond. My Bloody Valentine had better success in the UK, and perhaps was not so underground to her, but to the twenty-somethings in Kitchener-Waterloo, Ontario, Canada (the land where Blackberries now rot on the vine) MBV were the darlings of the underground; you had to have connections to the scene in Toronto to be in the know. At that time, North America was taken over by Nirvana and The Red Hot Chilly Peppers; it was nearly impossible to hear anything else above the buzz.
And while MBV is great music to play loudly on your system, they deserve much more description than that. A good listen, or just a little research on the internet will reveal how original and intricate the band and their sound is.
But first off, some description of the leader of MBV, Kevin Shields, is in order. Something of the J.D. Salinger of the music world, he's reclusive, rarely talks to the media, and extremely meticulous with his sound. Deeply involved in every nuance, it becomes easily understood how such an innovative sound could have emerged from such fastidiousness and creativity. When he has opened up in interviews, he reveals himself an extremely artistic personality, but also a rare one countered with a heavy dose of wisdom - no doubt, something that's served him well in securing ownership of his music, although its led to difficult and perhaps underhanded dealings with record labels, but events which he eventually came out on top of due to his passion and persistence, and something he seems reflect upon without bitterness when his passion is checked by his intellect and maturity.
Speaking on the MBV sound, it's lush, layered, encompassing, and original. The guitar work had been something of a impassioned debate in the day. It was believed to be heavily manipulated through effects and massively reworked through the studio, yet, Shields attests, turns out to be rather simply, a guitar tuned to a chord with liberal use of a tremolo bar and run through an amp turned up to 11. The sound launched them into high critical acclaim, and heads of the Madchester, or
"shoegazer" sound, but unfortunately record sales weren't as stellar to match the acclaim. They failed to chart in the U.S. That, plus inactivity led to members of the band falling away, yet it's the originality of the sound which makes them reappear and indelible on those who heard them in the past. And requests for more output, thanks in part to Sophia Coppola, has led to their immortality to the degree that rereleases and remasters, and new tours coming out, plus, although Shields has stated no firm date, he speaks of unreleased material finally finished and due out soon. While Shields may not follow most people's notion of time, his work is something to watch for when it does come. It's more than worth owning a seminal band who's been so influential to so many, Mira Calix included. His work has inspired more than one generation of music lover.
Next Week's Guests:
Audio interview - David J -  bassist for the gothic rock band Bauhaus and Love and Rockets.
Written interview - Zia McCabe Keyboards, etc. from the Dandy Warhols.

Links to occupy your time and enlighten your soul:
John McLaughlin's new album "Now Here This" coming out Oct 18th!

"It's the best thing I ever did, from the beginning until today" -John McLaughlin
"The best Jazz album yet this year" -GoingThruVinyl
http://www.johnmclaughlin.com/project/now-here-this/
COMING SOON: John McLaughlin will be coming on the show to talk about his new album!
I also wanted to congratulate Micky Hart on a great tour! Here is a link to some free live tracks; get them while they're still up.
http://mickeyhart.net/download
Check out our interview with Micky Hart Here