Podcast: Play in new window | Download
S04 Ep08 (Part1 of 2) - Discovering Unique Talent With Charlie McCoy
Special Guest: Charlie McCoy (Part 1 of 2) might be one of the most honored and revered guests in my roster. His impact on music (both Country and Rock) is immeasurable. To bringing up the fact that he played on Bob Dylan's Highway 61, Blonde on Blonde, Nashville Skyline, and John Wesley Harding, Simon and Garfunkel's "The Boxer," or Roy Orbison's "Candy Man" would overlook some of the other amazing achievements of this great musician. It should be noted that he also played with Elvis Presley throughout his career, including his early RCA sessions, and put out 35 great solo albums of his own. He is a Country music legend and has played with Johnny Cash, Willie Nelson, Dolly Parton, George Jones, Flatt and Scruggs, Chet Atkins, Patsy Cline, and Johnny Paycheck. He was in the Nashville's super group, Area Code 615, as well as being part of the Nashville A-team, he was the musical director for the ground breaking television show Hee Haw for 14 years and was inducted into the Country Hall Of Fame in 2009 with Roy Clark and Barbra Mandrell (and if you had to ask he recorded with them too).
In this podcast Charlie and I talk about his Southern beginnings, getting to Nashville and his barn dance radio days, McCoy's big Grammy winning album, The Real McCoy, his involvement in the songs "He Stopped Loving Her Today" with George Jones, and "Today I Started Loving Her Again" with Merle Haggard and Roy Orbison, we talk about Fred Foster, Sam Philips, Archie Bier, Charlie McCoy's work with Elvis, Ray Price, we get into Hank Williams and much, much more.
Nashville Sound
The Nashville sound, sometimes called by the ugly portmanteau, Countrypolitan, is the name for the sub-genre of country music that sprang up arguably around 1957. The Nashville sound is believed to be the reaction of country to combat the booming popularity of rock n' roll, ironically, it is argued that the Nashville sound was largely influenced by the one who was bolstering the popularity of rock 'n roll, Elvis Presley, but the Nashville sound was primarily orchestrated by Chet Atkins, Owen Bradley, Bob Ferguson, and Steve Shoals.
Why exactly Nashville became a music centre of the U.S. is still a matter of debate. Besides the people involved, on which there is even greater debate about who held the greatest impact, the location is considered to be a large reason behind the emergence of Nashville as a music centre. Both close enough to New York and the music that came from that way, but also far enough away from New York to not be so greatly influenced by it. And south enough to be rooted to the sounds emerging from the south and the rural areas. Also, a great deal of traffic traveling East and West went through Nashville, making it a harbour for the musical influences the travelers brought with them.
Of, course, this musical crossroads birthed one of the most reputable and revered stages by bringing these influences into the culmination of the Grand Ole Opry. The Grand Ole Opry grew out of the National Barn Dance radio program that showcased old-timey and down-home music. Noted as "the home of American music," The Grand Ole Opry is still a massive draw and is the highlight in many careers of notable country musicians that span several generations now.
Podcast: Play in new window | Download
S04 Ep03 (Part1 of 1) - Being Blessed By The Muse With John Densmore
Special Guest: John Densmore - has kept the dream alive, refusing outside pressures, and making it clear that the Doors principles are not for sale at any price. Densmore's conceptual ideas, influences, and style of playing brought a jazz element to the band allowing them to explore long jazz-like passages including "When the Music's Over", "Moonlight Drive", and "The End." In this podcast, John Densmore and I talk about "selling out" and what that means to him, his new book The Doors: Unhinged - Jim Morrison's Legacy Goes on Trial we talk about transcendental meditation, The Whiskey a Go-Go, playing with Van Morrison and the band Them, The Doors last gig, and much much more.
What is Southern Rock?
The post a couple weeks back with Lynyrd Skynyrd got me thinking, what exactly is "southern rock?" The question might strike some as being a silly one and spark a quick reply of a guitar heavy, blues influenced rocker sound, but the truth of it is more complicated, or rather, paradoxically much simpler. "Because a certain type of blues music, and essentially, rock and roll, was invented in the South, Gregg Allman has commented that 'Southern rock' is a bit redundant; it's like saying 'rock rock.'" 1 It can easily get convoluted and pointless really when trying to place music into a sub genres and classifying what music necessarily is, and isn't to rigorous scientific standards, to the effect that Gregg Allman is absolutely right. But it's true, so many of the early rock musicians came out of the southern United States. Elvis, of course, born in Tupelo, Mississippi near the Mississippi Delta, home of the Delta blues, or, if we were to learn anything from Gregg Allman, simply home of the blues. And Elvis, unabashedly a figurehead of bringing black music to white audiences along with Jerry Lee Lewis, out of Ferriday, Louisiana and, like Elvis, recorded with Sun records in Memphis, Tennessee, whose owner, Sam Phillips, was the one who wanted to bring black music to a white audience. The proof can be stated simply with John Lennon himself stating that if it weren't for Elvis, there would have been no Beatles; and so, the lineage begins to take form and crystallize back to the rural south and the artists that spread the music from there.
"If it weren't for Elvis, there would have been no Beatles." --John Lennon
Artists such as Bo Diddley, born in McComb, Mississippi. Unfortunately,  not as revered as he should be today, but he truly deserved his nickname of "The Originator" not only for his innovative rhythm, but also for shifting the focus from blues to rock, with his heavy guitar sound and style. So much of what rock is today can trace a direct line back to Bo Diddley, and sadly, history seems to have forgotten that. Probably the majority of rock bands today are completely unaware, and it's wrong to not pay due respect to the forefathers. Rock and roll really came on in a storm. Think of the fervour of the screaming girls in the audience of the Ed Sullivan Show at the Beatles performance. And the Beatles themselves didn't win America over completely; there were rallies protesting the Beatles and record burnings. Bo Diddley got swept under by the own wave that he helped start; but it simply would have been unthinkable and forbidden for good, white American girls and boys in the 60's to show any interest in a black man who didn't play his guitar correctly. Mostly because he was black, but the crazy sounds he made didn't help his cause in mainstream white America. That sort of thing could get you excommunicated from your family, church, and community.
Bo Diddley got swept under by the own wave that he helped start; but it simply would have been unthinkable and forbidden for good, white American girls and boys in the 60's to show any interest in a black man who didn't play his guitar correctly.
In fact, it was largely the influence of the British Invasion that led the focus further away from the rural south to the industrial big cities of England, and the big cities in the States quickly followed suit. It might be said that rock was taking a new form from Southern rock when becoming influenced from the British invasion and psychedelica and further away from the roots of rock and blues, but that's where the lines get blurred. The Doors themselves, more often considered psychedelic rock, arguably owe a greater deal to the roots and music from the south, notably including a recording Willie Dickson's "Back Door Man" on their first album. How appropriate Charlie Daniels' song"The South's Gonna Do It (Again); while being a nod to the South's rallying cry after the American Civil War, was more of a defiant premonition to a resurgence of southern bands.
Charlie Daniels, with his rallying cry of "The South's Gonna Do It (Again)" proved itself right, and echoed throughout the music world, and more times than once.
And by the 70's, Southern rock had made a vigorous resurgence, not only from bands from the south, but the southern rock sound spread it's influence to bands like Credence Clearwater Revival, who were from the San Francisco Bay area, and "The Band" who were Canadian except for Levon Helm, who was the only true Southerner, from Arkansas. But the 70's revival fostered the success of bands that came from the south, like the Allman Brothers. Charlie Daniels, with his rallying cry of "The South's Gonna Do It (Again)" proved itself right, and echoed throughout the music world, and more times than once. Take, for example, ZZ Top in the 80's. They were notable standouts in the days when synth pop, and post-punk was the going norm. The Black Crows, out of Atlanta, Georgia were a breakthrough in the 90's when the focus was on grunge, and everything out of the Seattle area. Most recently, the Southern rock resurgent echo can be seen in the Kings of Leon, and The Black Keys. The Black Keys are out of Akron, Ohio, but, like The Band, owe nearly everything to roots of blues and rock from the south. Whatever new trend, or influence, nothing can kill Southern rock, or better to call it the roots. Deep
roots. Really, so much more can be said about the importance of the south on rock; it could fill a book, but there isn't the space to address everything that deserves mention here, but I wanted to point out the notables and direct your attention to the figureheads, and influences, and hope it sparks your interest, broadens your horizon, and sets you on a path of things to look for at the record store. Thank god Jack White, who seems to have the world's attention, pays due respect to the ones who helped forge his path to prominence today. I wish you all well on your search.
--Guthrie Alan Corwin
The blues had a baby, and they named it rock and roll.
--Muddy Waters
Podcast: Play in new window | Download
S03 Ep01 - Playing records for Wanda Jackson
Interview Date: August 23, 2012 @1pm EDT
Special Guest: Wanda Jackson -  has been called "The Queen of Rockabilly" and is by all accounts a Rock'n'Roll legend - she has a distinct style in both Rockabilly and Country (often bouncing between both styles on the same record). Credited as being the first women to record a Rock'n'Roll single; Wanda Jackson is a crucial figure in the Rock genre and the feminist movement.  In this podcast we talk about her first radio show, playing  Bob Neals 8th Anniversary Jamboree on August 5, 1955 in Overton Park Shell, Memphis, Tennessee, and the day Elvis and her talked about switching her style to Rockabilly to fit the new demographics coming of age (teenage kids with enough money to buy their own music).
Wanda Jackson has some "Unfinished Business" she needs to get off her chest; her new album is out October 9 and is produced by Justin Towns Earle (Steve Earle's Son) on Suger Hill Records. Check out more at: http://www.wandajackson.com/
The Royalty of Rockabilly
Bill Haley, of  course. Out of Detroit, and spearheaded the popularity of rock with Shake, Rattle and Roll, and Rock Around the Clock. He didn't look the part, but he had a wild history. More rock than rock. If you're not familiar with him, you should do that, and quickly, if you like music. He didn't just come out of nowhere, he had a successful thing with western swing.
Elvis Presley. Sam Phillips of Sun Records struck gold releasing "That's Alright Mama".  Elvis fit the mold of what Phillips was looking for in a white boy who could sing black. They changed everything again in music. Too good looking and talented to stay working as a truck driver, plus it's hard to shake your hips driving a truck.
Little Richard. Unbelievable energy, and the inspiration for several legends after him Including Bob Dylan, James Brown, The Beatles, Jimi Hendrix, Led Zeppelin, The Rolling Stones, and Michael Jackson. "Tutti Frutti" started it all off, and wasn't even intended to be recorded during the session. He did what he wanted and quit rock and roll to pursue his calling into the priesthood.  He came back into music to sing gospel, for a while . . .
Chuck Berry. Influenced by T-Bone Walker, Berry played blues and some ballads, but his country playing got him labeled as the black hillbilly.  His hybrid style launched him to one of the top acts of 1956.
Buddy Holly. Also the progenitor of the rock band standard with two guitars, bass, and drums. A real rock and roll rebel, who's career and life was cut short in the plane crash memorialized as the day the music died.
Fats Domino. Ambassador of New Orleans music in the 1950's, and great inspiration to John McNally of The Searchers. Do you get it yet? These are the great influences in music overlooked by time's passing. He admitted the lyrics weren't too deep, but he landed 40 songs on Billboard's  top 10 rhythm and blues between 1950 and 1961.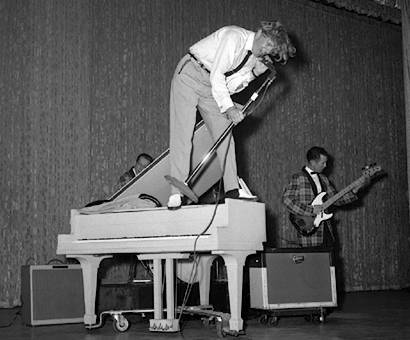 Jerry Lee Lewis. The Killer. The bad boy. He put everything he had into his performances. He became known nationwide in 1957 with "Whole Lotta Shakin' Goin' On" then had successive hits with "Great Balls of Fire" and "Breathless."
Roy Orbison. With such talent and such a dynamic voice, he could do nearly anything and any style. Almost to his detriment; it took a time and a few different labels for Orbison to find his place and start churning out the hits. But once he did, he was off. And off again in the 1980's with his resurgence.
Podcast: Play in new window | Download
Interview Date: July 8, 2011 @11am EDT

Ray Price and the Cherokee Cowboys
I don't know where to begin, or how to explain the gravity and cultural significance of my next guest. Ray Price is a Country honky-tonk legend who, by all accounts, kept the Hard Country torch alive as the rest of the world was turning its back and jumping on the Rock 'n 'Roll bandwagon.1 He is a man whose "music" and "message", I would argue, is more relevant today than any other time in history. To listen to him is to listen to over a hundred years of American history all boiled down into one well crafted tune; a man so important that Hank Williams
Podcast: Play in new window | Download
Whether it's Neil Young singing about his roadie and friend Bruce Berry in his landmark tune, "Tonight's the Night" or Charlie Parker naming a classic Bebop tune after his drug dealer, "Moose the Mooche,"
musicians have realized that it's the people in the background that are often the ones with the interesting lives. Professionals who not only drive the buses, make the costumes, or run the soundboards, but also help give context and life lessons to the artist's work. Aside from making stuff happen behind the scenes, these over-looked workers sometimes take centre stage. Take for example Lemmy; did you know that before he got famous as the lead singer of Motorhead that he was a roadie for Jimi Hendrix? He is not the only one either. David Gilmour was a roadie for Pink Floyd before they asked him to join them as lead guitarist. In fact, Noel Gallagher(Oasis), Jello Biafra (Dead Kennedy's), Krist Novoselic (Nirvana) and even Henry Rollins (Black Flag) all got their start as roadies. 1
There are guys like Owsley Stanley (nicknamed "Bear")